Monday, May 15, 2017 - 20:00
9900 Southwest Canyon Road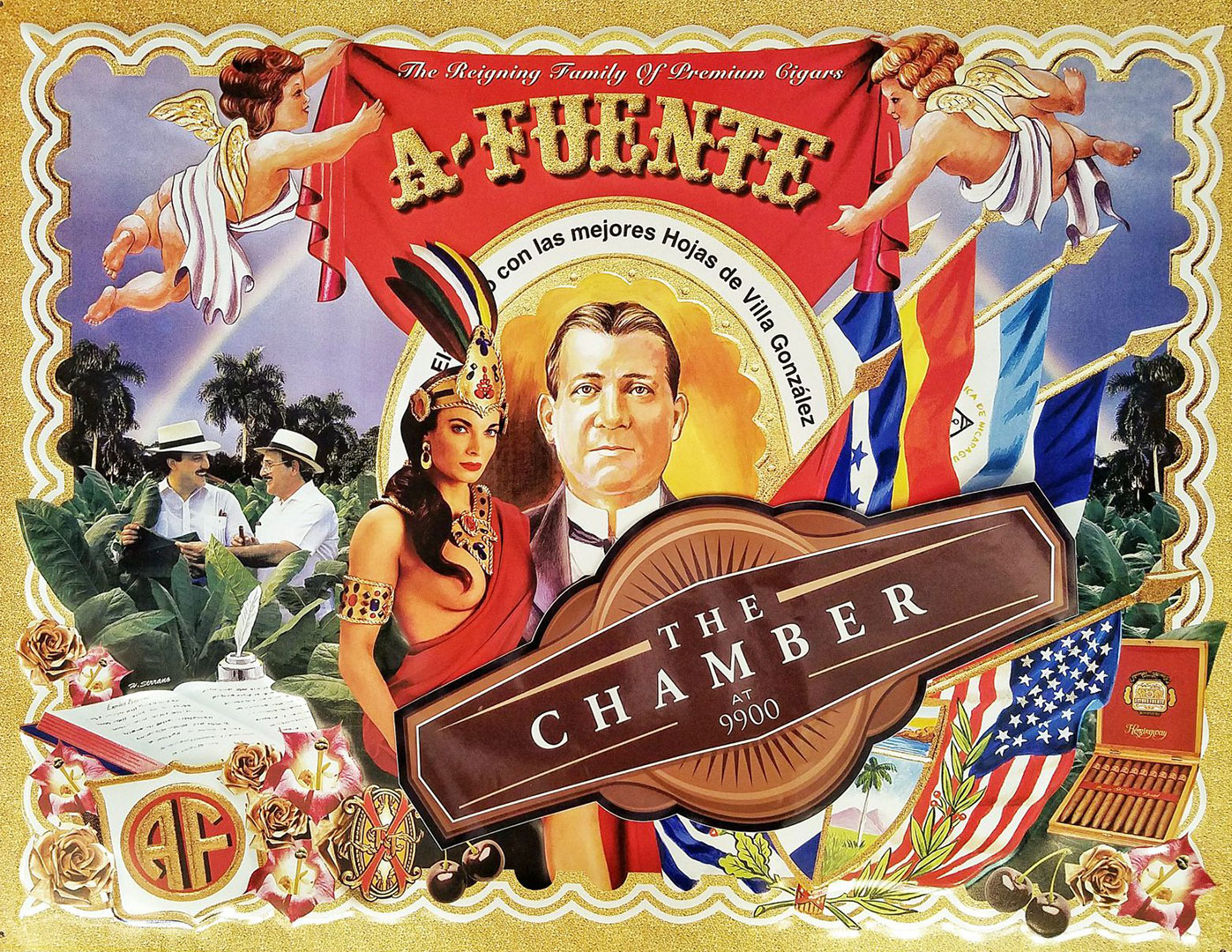 A Chamber evening with Fuente / JC Newman and Chef Christian Russell
Join us on May 15th for the first Chamber at 9900 private event.  This evening will feature Arturo Fuente Cigars, giving you an opportunity to try three different cigars, learn a little more about the Arturo Fuente Family, their charitable organization and the passion they have for cigars.  Rick Zunt from JC Newman will be on hand to educate us on the cigars, tell some amazing stories about the family and the process and answer all of your cigar related questions.
Additionally, we will be serving cocktails that should pair nicely not only with the cigars themselves but the incredible menu that our Executive Chef Christian Russell has prepared for the evening.  Executive Chef Christian's three course meal was crafted with the cigars and spirits in mind to bring out the best qualities in all of them.
Mix in some door prizes and raffle items and a lot of fun and laughter and this will be a great night to share with friends and family or come by yourself and join our family at the Chamber!  
Details:
Food Menu:
1st course:​ Warm Frisee Salad, Porkbelly, Drunk and Fried Egg.
2nd Course​: Herb Crusted Filet Mignon, Truffled Spring Vegetable Risotto
3rd Course:​ Spiced Apple Cake, Bourbon-Raisin Brown Butter Caramel, Cardamom and poppy seed Granola
Cigars Offered:​ 
Casa Cuba
A tribute to the early days of cigar making, this new release from Arturo Fuente was personally blended by Carlos Fuente Sr. using the time-honored traditions he learned from his father as a young boy. His intent was to recreating the experience and flavor of Cuban cigars he rolled and enjoyed in his youth.
Carlos Sr. selected an Ecuador Havana wrapper tobacco and chose a mix of Cuban-seed Dominican long filler and binder, and blended them in the same manner he used blending Cuban tobacco many years ago.
Released in four sizes, Casa Cuba cigars are named after Cuban dominoes and elegantly packaged with vintage flair.
Don Carlos
Named in honor of its legendary creator and Fuente family patriarch Carlos Fuente, Sr., Arturo Fuente Don Carlos cigars are one of the world's finest smokes. To create this masterpiece, Carlos Fuente, Sr. blended together rare, vintage tobaccos that were hand selected and aged as much as 10 years. These cigars are rich and flavorful, with flawless African Cameroon wrappers, making them as appealing to the eye as they are to the palette. Because of the select tobacco required, these cigars are released in limited quantities and are among the finest cigars rolled at Tabacalera A. Fuente in the Dominican Republic. In every way possible, Carlos Fuente, Sr. strives to attain the ultimate in rich flavor, flawless wrapper color and superior construction in every cigar that bears his name.A rich, African Cameroon wrapper over vintage Dominican filler give way to flavors both complex and refined. The slightly sweet flavor produced by the select African Cameroon wrapper is in perfect balance with the savory aroma. Flawless construction, a hallmark of Tabacalera A. Fuente, ensures an even burn and smooth draw, unquestionably among the world's most elite cigars.
Anejo
In September of 1998, Hurricane Georges tore through the Caribbean Sea causing widespread destruction throughout the region, including the famous Chateau de la Fuente farm in the Dominican Republic, where the wrapper leaf for the acclaimed Fuente Fuente OpusX cigar is grown and harvested.Two years later the storm's destruction resulted in a shortage of Fuente Fuente OpusX wrapper tobacco. Rather than halting production, Carlos Fuente Jr. ordered the use of a different wrapper, an aged Connecticut broadleaf. Once again, the Fuente family forged triumph from tragedy, and the Arturo Fuente Añejo cigar was born.One of the world's most rare cigars, the Añejo cigar is rolled with the very best Dominican filler and binder from Chateau de la Fuente, then adds a 5-year-old Connecticut maduro wrapper aged in a Cognac barrel. This blend yields a rich, spicy, slightly sweet smoke and the unique aging process leaves a distinct finish.
This event is anticipated to sell out fast with only 40 spots available. Online ticket sales will end May 11th at noon. Don't miss out on this amazing event, buy your ticket(s) today!
Cost: $120 
9900 Southwest Canyon Road, Portland, OR 97225
Your Venue Location on Google Map
Travel to Africa
Travel to the wonderful African Continent with West Africa Money Hotels for travel.
Top destinations are Lagos Nigeria, Accra Ghana, Marrakech Morocco, Tunis Tunisia, Banjul Gambia The Gambia, Dakar Senegal, Abidjan Cote d'ivoire, Nairobi National Park Kenya, Lusaka Zambia, Cape Town South Africa and Giza Cairo Egypt.