Thursday, May 18, 2017 - 20:00
COURSE DESCRIPTION:
SAUSAGES!  Who doesn't love them?  Breakfast. Brunch. Dinner. On the backyard BBQ or throw them in a pan!  At LFB we make all our sausages in-house.  And in "MERGUEZ & MORE" Jean-Claude and Pierre Chanet will pull back the curtain and show you exacty how!  No fillers.  No shennanigans.  This is the cleanest sausage you can find.  
The course is designed for amateur chefs and passionate foodies who want to learn the basics and help them get started in their own kitchen!   This evening's class will include our clients' favorites:  Heritage Pork with Imported Gruyere & white wine, Heritage Pork with sweet peppers, French Classic Chipolata & North African Merguez (beef and lamb.)  And every participant will go home with a beautiful sampling of them all! Fire up the Grill !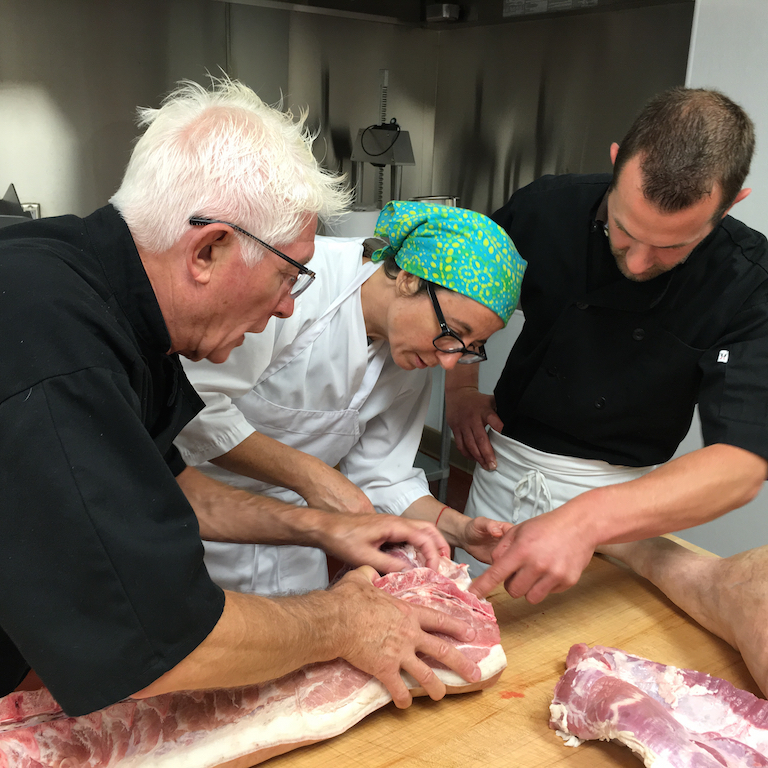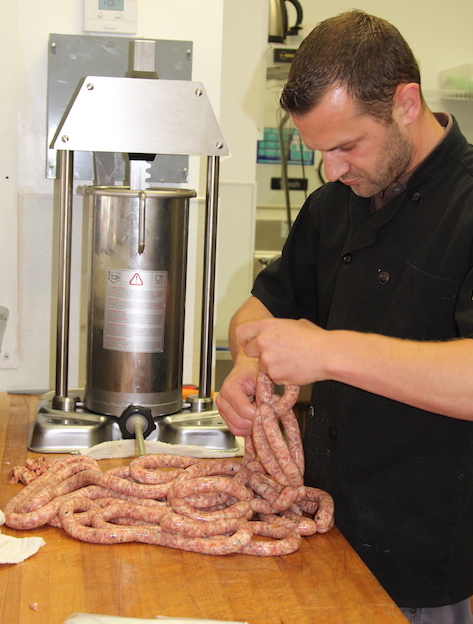 Limited to 6 participants.


 7

:00 a.m. - 9:00 p.m. -- 2 Hours 




 Interactive Up-Close Demonstration of every step of the process




 Detailed discussion from half-carcass to links




 Guided Opportunity to try your hand at every stage




 All participants will take home a healthy sampling of their own handiwork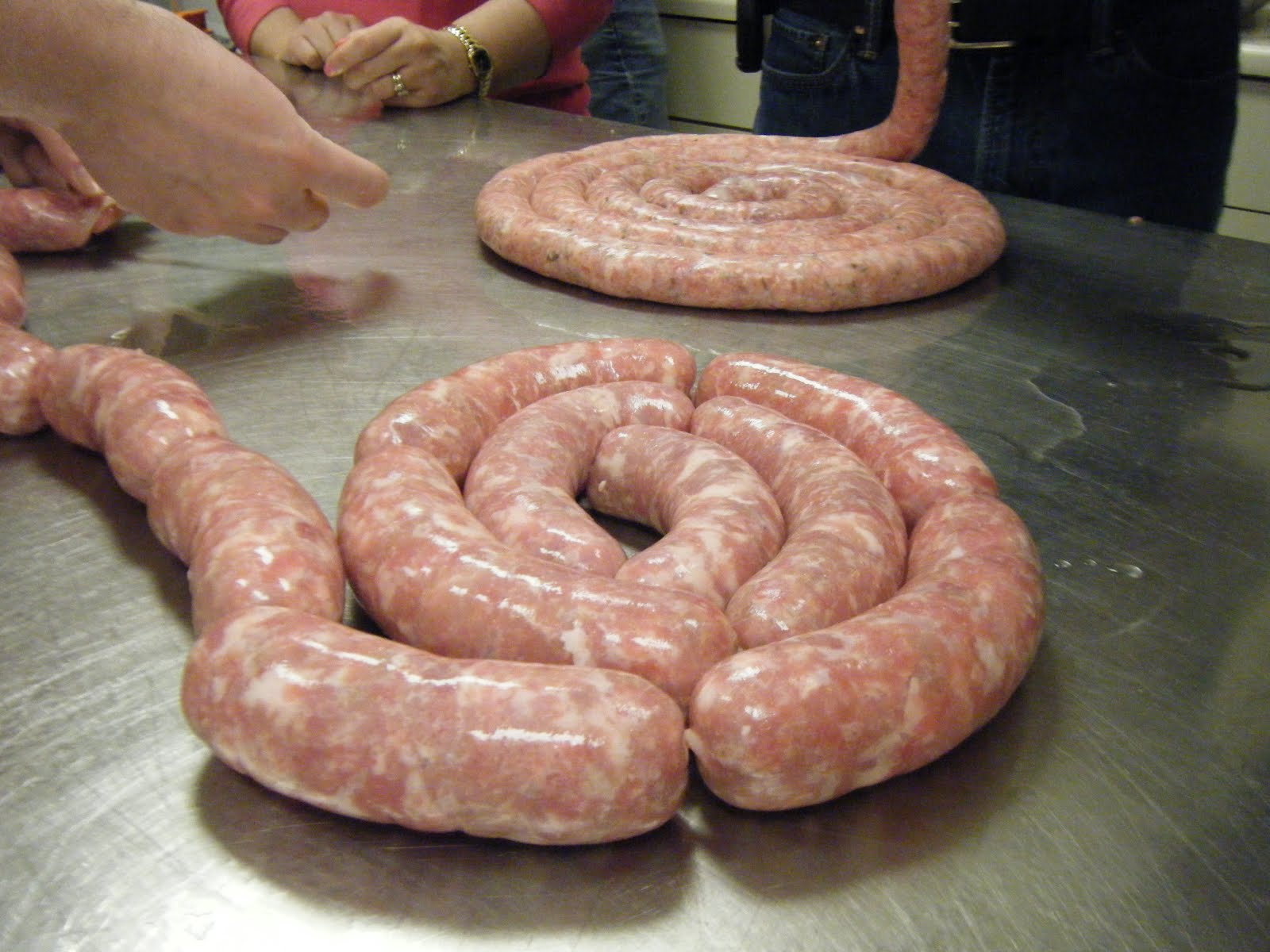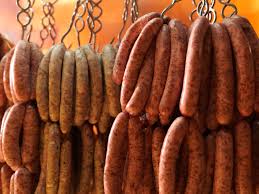 WHAT'S INCLUDED:



Smocks and Cutting glove




All teaching materials 




Hand-Outs




An evening treat during class 




Take-Home sampling




10% Discount on any in-store purchases same evening of the class! 




10% Discount on any future classes purchased same evening.



OUR PORK
Our pork comes from MARIN SUN FARMS in Northern California and is 100% natural, pastured and sustainably raised.  We work with HERITAGE PORK because we want only pastured pork (not caged or penned) and because the Heritage breed has the right fat ratio for French Charcuterie (which is actually more lean than most Americans suspect).  French sausage uses much less fat than does American sausage--which is famous for throwing most everything in sausage except the kitchen sink.  Not so with the French which uses 100% actual pork meat as you will see.  So the sausages tend to be a little more meatier and need less cooking time as a result. 
HOW TO DRESS: 
Very casual! Just a T-shirt and shorts or slacks as you will be wearing a smock as well. And comfortable shoes as you'll be standing for most of the event.  Dress to peel as the temperature in the kitchen can vary.
WHAT TO BRING:
Everything you need will be provided. But if you have a favorite boning or paring knife from your kitchen that you feel comfortable with, feel free to bring it.  Come eager to learn, share, make new friends and have fun—because this is a super fun class and let's face it, learning how to cut a half-hog by a French Master Butcher right here in L.A. is a an amazing opportunity for any serious foodie!
ARRIVE A FEW MINUTES EARLY:
Please arrive early to "suit-up."  This is our store's private kitchen, County Health Approved, so we will ask you to wear a smock and apron--just as if you were working in our butchery!
About Le FRENCH BUTCHER: 
Launched in July 2015 by Jean-Claude Setin and his wife, Susan, Le FRENCH BUTCHER is both a neighborhood Butcher Shop and a multifaceted fine foods enterprise.  We're known for our French culinary excellence, the talents of Master Butcher Jean-Claude Setin, our own in-house Charcutier Pierre Chanet, and our super fun classes and events.  "LFB" brings the finest in 100% Grass Fed and Pastured meats, imported salamis and cheeses, in-house charcuterie and sausage, humane farming & responsible butchery to the fast-growing and increasingly informed demographic of Los Angelean Foodies who want to eat great and feel good about how they spend their protein dollars. Our farmers are as committed to the same values we are.  And the products you'll be taking home are guaranteed to be "Healthy, Delicious, Sane and Humane."  
6015 W. THIRD STREET, Los Angeles, CA 90036
Your Venue Location on Google Map
Travel to Africa
Travel to the wonderful African Continent with West Africa Money Hotels for travel.
Top destinations are Lagos Nigeria, Accra Ghana, Marrakech Morocco, Tunis Tunisia, Banjul Gambia The Gambia, Dakar Senegal, Abidjan Cote d'ivoire, Nairobi National Park Kenya, Lusaka Zambia, Cape Town South Africa and Giza Cairo Egypt.