Saturday, July 8, 2017 - 15:00
Benjamin Banneker Historical Park and Museum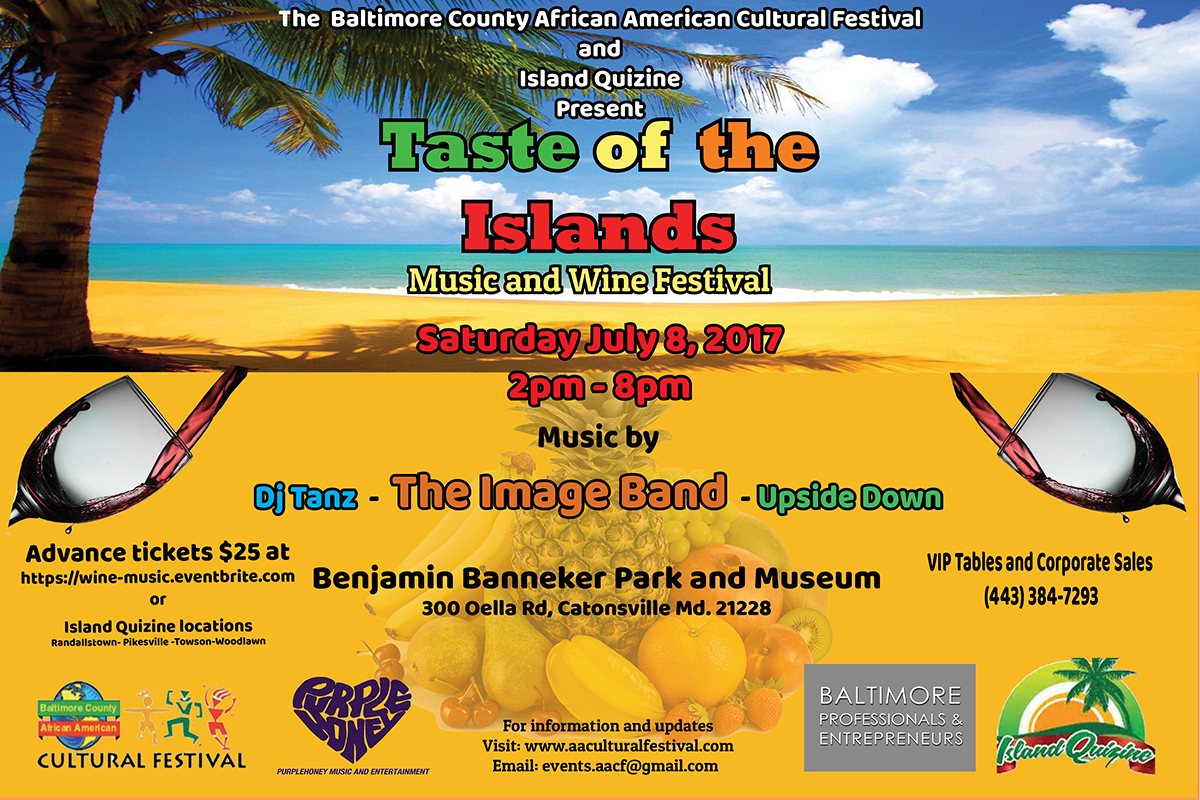 The Baltimore County African American Cultural Festival and Island Quizine present:
Taste Of The Islands Music and Wine Festival
Music by: DJ Tanz   - The Image Band    -   Upside Down
Venue:  Benjamin Banneker Historical Park and Museum, 300 Oella Ave., Baltimore, MD 21228
Time: 2:00 pm to 6:00 pm
General Admission Advance Tickets: $25   -    More at the gate
STATE ID AND TICKET PURCHASE CONFORMATION REQUIRED TO ENTER THIS EVENT.
Tickets also available at all Island Quizine locations: Randallstown - Pikesville - Towson - Woodlawn
For VIP Tables or Corporate Sponsorships contact: 443-384-7293
visit www.aaculturalfestival.com
email events.aacf@gmail.com
Proceeds from this event will support educational, historical and cultural arts programming of the Baltimore County African American Cultural Festival, a 501 C(3), the Festival's College Scholarship and the annual African American Cultural Festival in Towson take place the third Saturday in September 2017.
300 Oella Avenue, Catonsville, Maryland 21228
Your Venue Location on Google Map
Travel to Africa
Travel to the wonderful African Continent with West Africa Money Hotels for travel.
Top destinations are Lagos Nigeria, Accra Ghana, Marrakech Morocco, Tunis Tunisia, Banjul Gambia The Gambia, Dakar Senegal, Abidjan Cote d'ivoire, Nairobi National Park Kenya, Lusaka Zambia, Cape Town South Africa and Giza Cairo Egypt.