Saturday, October 14, 2017 - 11:00
Join Chef Imoteda as she makes her first ever New York City appearance as part of the Nigerian Fusion Food Tour alongside Chef Emeka. 
Chef Imoteda be serving up a 4-course tasting menu of Nigerian fusion dishes for a day-long series of events, with five seating times/options.
Brunch tastings:

Dinner tastings:
About Chef Imoteda:
Chef Imoteda is a Le Cordon Bleu trained chef who has long shared her passion for cooking with family and friends before deciding to share it with the world. She's the Head Chef at "Heels in the Kitchen" a food service company in Lagos, Nigeria dedicated to creating unforgettable culinary experiences with a focus on quality ingredients accessible locally.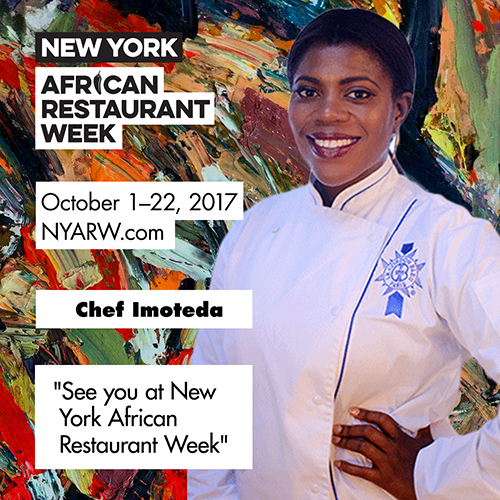 Your Venue Location on Google Map
Travel to Africa
Travel to the wonderful African Continent with West Africa Money Hotels for travel.
Top destinations are Lagos Nigeria, Accra Ghana, Marrakech Morocco, Tunis Tunisia, Banjul Gambia The Gambia, Dakar Senegal, Abidjan Cote d'ivoire, Nairobi National Park Kenya, Lusaka Zambia, Cape Town South Africa and Giza Cairo Egypt.