Saturday, October 28, 2017 - 19:00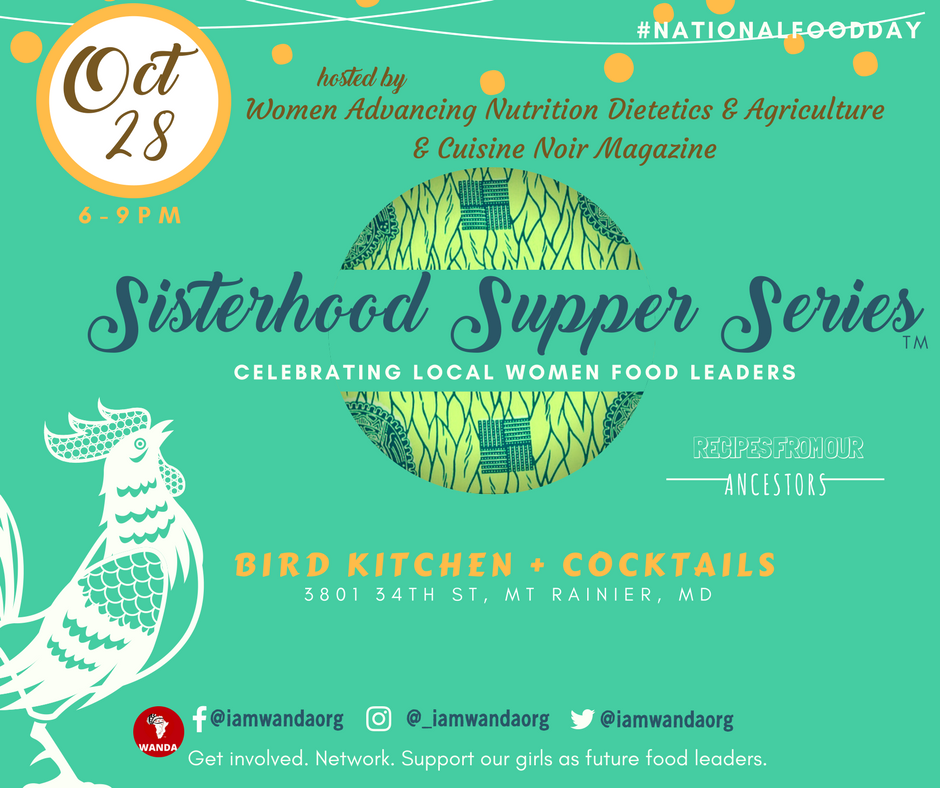 Co-hosted by WANDA: Women Advancing Nutrition Dietetics and Agriculture and Cuisine Noir Magazine, we invite you to join the Sisterhood Supper Series celebrating local women food leaders with our specia guest Toni Tipton-Martin, James Beard Award Winning Author of "Jemima Code" and first African American and former LA Times Food Editor.
The series is curated by WANDA to curate conversations on culture and cuisine and create a community of women at the table. Bring a family recipe to share a story with the group at the supper.
RSVP your seat at Eventbrite.com and make a donation to WANDA, a 501c3 nonprofit based in DC and Nigeria focused on inspiring a new generation of women and girls as food sheroes in our communities.
We are thankful to our restaurant hosts:
Based in Mount Rainier, Bird Kitchen + Cocktails is owned and operated by recent transplants from Atlanta, Lenny and Martine Robinson.They opened a neighborhood eatery close to home, helping to fill a void in the Mount Ranier area.
"Bird is a reflection of everything we want an eatery to be: casual, warm and friendly. Eating healthy, simple and straightforward food, good music and drinks are our goals to sucess. Pomp and cicumstance, unnecessary."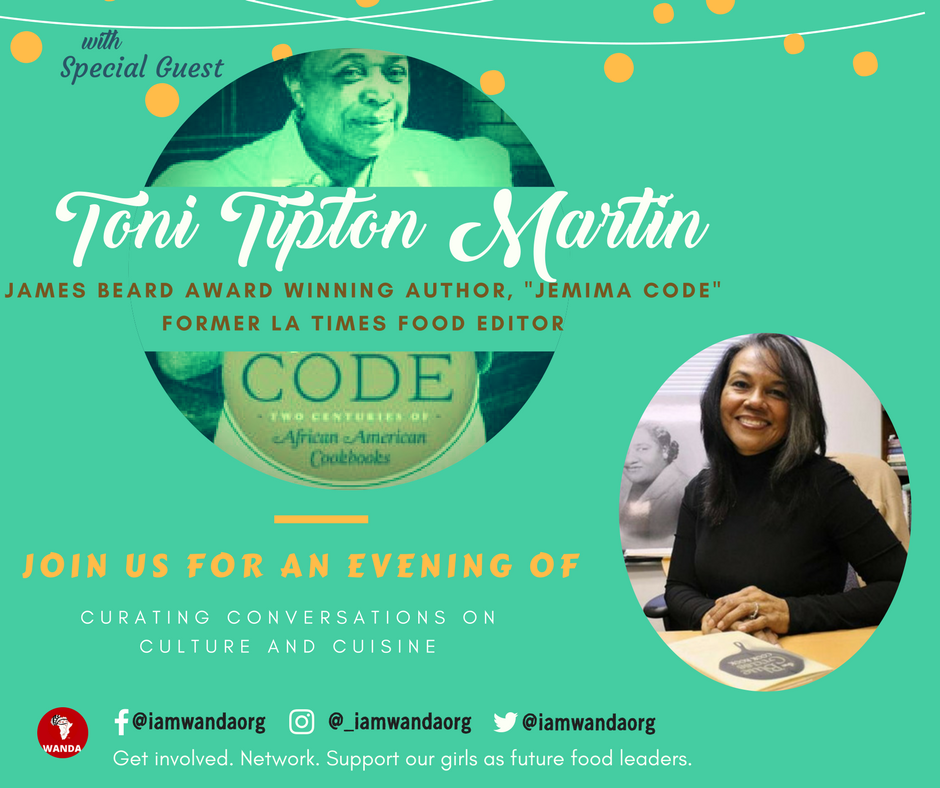 ----------- SISTERHOOD SUPPER MENU --------
Roasted Butternut Squash Soup
w/ Coconut Milk, Curry + Chiles
Dinosaur Kale Salad, Dates, Blackberries + Walnut Vinaigrette
Pan Roasted Local Rockfish, Vidalia Onion Jus, Peanuts + Gold Rice
Seared Sea Scallops, Cauliflower, Corn+ Fava Bean Succotash & Tomato Butter
Candied Eggplant, Roasted Tomato, Okra, Plum +Lentils & Flowers
Honey Roasted Hen, Cornbread + Sage Stuffing, Giblet Jus
Rye Shortcake, Buttermilk Pudding, + Blackberries & Sorghum
Flourless Chocolate Tart, Violet Creme
SISTERHOOD SUPPER MENU is $30 includes batched cocktails (doesn't include tax and tip).
Like and follow at iamwandaorg on Twitter, Facebook and Instagram.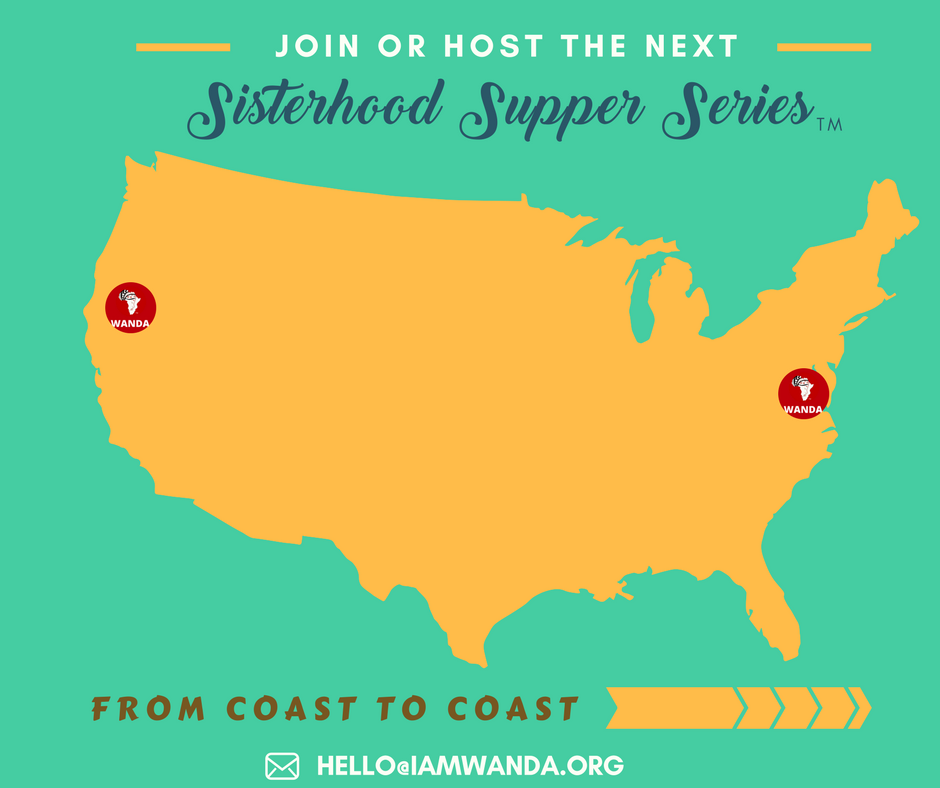 FAQs
Does the ticket cover the cost of the meal? 

You pay for your $30 3-course meal at the restaurant plus tip. The ticket holds a seat for you at the table.
What are my transportation/parking options for getting to and from the event?
Street parking is available. Not metro accessible.
What can I bring into the event?
Your family recipe to share your story.
How can I contact the organizer with any questions?
Send questions to hello@iamwanda.org or call/text (202) 770-1160.
Will there be media including photography/videography? 
Media has been invited and we encourage you to share your story as well.
3801 34th Street, Mount Rainier, MD 20712
Your Venue Location on Google Map
Travel to Africa
Travel to the wonderful African Continent with West Africa Money Hotels for travel.
Top destinations are Lagos Nigeria, Accra Ghana, Marrakech Morocco, Tunis Tunisia, Banjul Gambia The Gambia, Dakar Senegal, Abidjan Cote d'ivoire, Nairobi National Park Kenya, Lusaka Zambia, Cape Town South Africa and Giza Cairo Egypt.