Saturday, July 21, 2018 - 13:00
COFFEE ROASTING & SENSORY DEVELOPMENT SERIES FOR NEW ROASTERS.
Mike Nelson of Guilder Cafe & Junior's Roasted Coffee & Emily Smith of World Cup Coffee are back with their roaster education series designed for beginning to intermediate level roasters.
This four-part series is progressive in skills development and is designed to fit together as a whole, though classes can be purchased individually or in a bundle (save $200).
SCHEDULE
SESSION 1
SATURDAY, JULY 21 (12PM-5PM)
HANDS-ON INTRODUCTION TO COFFEE ROASTING
Participants will learn the anatomy of the roaster, maintenance, roast curves and how to log roasts manually as well as through software.  
SESSION 2
SATURDAY, JULY 28 (12PM-5PM)
LATIN MILDS
Participants will explore washed coffee from Central and South America, including how to develop roast profiles best suited to the terroir of the region. Participants will also learn the basics of green coffee buying, including planning, cupping for quality evaluation, and price discovery.
SESSION 3
SATURDAY, AUG 4 (12PM-5PM)
AFRICAN & NATURAL PROCESS
Participants will explore African coffees with particular attention paid to natural processed coffee.  They will learn how to approach natural processed coffees in profile development.  Participants will also learn how to cup with the SCA cupping form and score coffees, including recognizing coffee defects.
SESSION 4
SATURDAY, AUG 12 (12PM-5PM)
BLENDS
Participants will learn about how to blend coffee, including roasting coffee that is pre-roast and post-roast blended.  Participants will also learn about how to manage green inventory, utilize blends for green management, and leveraging blended coffees for revenue and growth
EDUCATORS
Emily Smith has a background in green coffee, including quality evaluation and supply planning. She is a licensed Q Grader and has worked managing and processing green coffee for large roasters in the Pacific Northwest. Emily is also an expert sample roaster, having roasted thousands of samples for quality and price discovery evaluation.  In addition to roasting for World Cup Coffee, she also serves as a director of the Oregon Coffee Board.  
Mike Nelson has worked in the coffee industry as a barista, consultant, roaster, trainer, and company co-owner with various specialty coffee companies in the US and abroad. He combined his love of scientific research and coffee by focusing his graduate research on climate change and coffee, and holds an MSc in Environmental Studies and Sustainability Science and an MSc in Geography. He is co-founder of Junior's Roasted Coffee, and oversees the company's green coffee buying, roasting, and wholesale training. In April 2017 Mike and his business partners opened Guilder, a cafe and bar in Northeast Portland that also serves as the roastery for Junior's Roasted Coffee.
FACILITY

The Buckman Coffee Factory is a shared-facility roastery, education hall and event space located along Roasters' Row at 1105 SE Main Street in Portland, OR. The Factory's services include rentable coffee roasting equipment and a flexible, light-filled workspace designed specifically for small to medium scale roasters. Our Cupping & Education Room is also available for public and private coffee events -cuppings, social events, meeting space and lectures. 


PRICE:
Classes are priced individually @ $350. The entire series is offered @ $1200 (save $200).
QUESTIONS?
Please email us at education@buckmancoffee.com
Or call Buckman Coffee Factory at (503) 970-5497.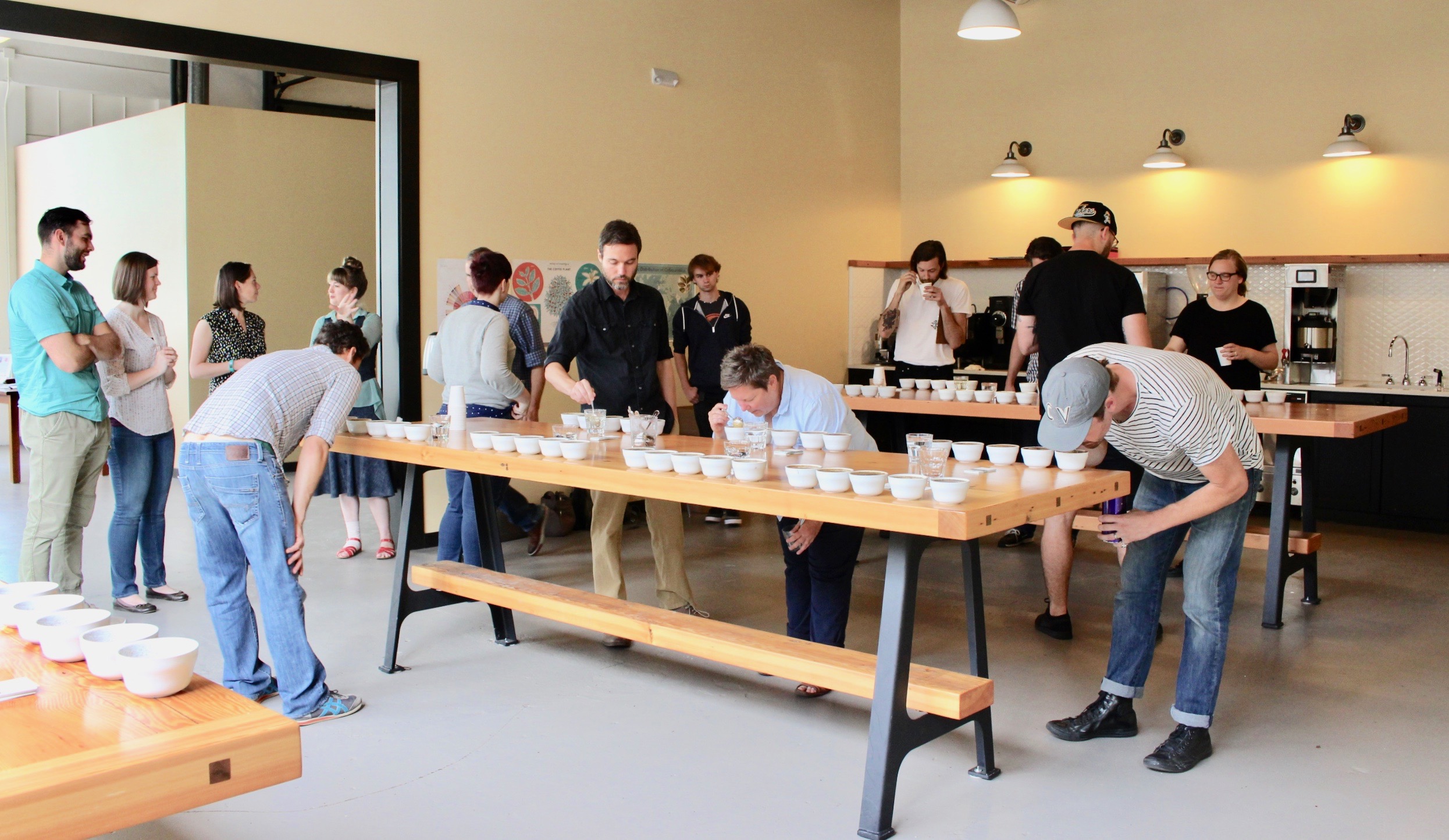 1105 SE Main Street, Portland, OR 97214
Your Venue Location on Google Map