Saturday, August 18, 2018 - 11:00
Raindrop Turkish House San Antonio
"International Flavors of San Antonio" cooking class series continues with a culinary journey to Ethiopia and Eritrea. These neighboring African countries have recently come to peace after many years of conflict. And, what better way to celebrate then to have a feast and learn how to cook their traditional cuisine.
Special thanks to the Raindrop Foundation San Antonio for the continued support and help organizing and hosting these cooking class series and to our guest teachers.
This cooking class is generously sponsored by Red Sea International Mortgage Group, LLC.
DATE: August 18, 2018
TIME: 10:00 AM - 1:00 PM
COST: $20.00 (cash only)
PLACE: Raindrop Foundation San Antonio
ADDRESS: 4337 Vance Jackson Rd. Ste 203, San Antonio, TX 78230
PHONE: (210) 377-1110
FOR MORE INFO: Contact stek@thedialoginstitute.org
GUEST TEACHERS: Genet Solomon, owner of Red Sea International Mortgage Group and Lilly Berhe, co-owner of African Village Ethiopian & Eritrean Restaurant
FEATURED MENU:
INJERA - traditional spongy flatbread that looks like a huge pancake. It's make from a sourdough batter and has a tangy taste.
DORO WAT - Chicken stew with hard boiled eggs & seasoned with Berber spices served with homemade cottage cheese.
LAMB TIBS - Lamb strips seasoned with onion, rosemary & jalapeño
ALICHA KIK- Split peas cooked in turmeric sauce
TIKAL GOMEN - Stewed cabbage, potatoes & carrots in a mild turmeric sauce
FASOLIA - Green beans cooked in a garlic & ginger sauce  
NITER KIBBEH - Clarified butter seasoned with fenugreek, cumin & turmeric
HAMBASHA - Semi-sweet Bread traditionally eaten for dessert
Ethiopian & Eritrean coffee served with milk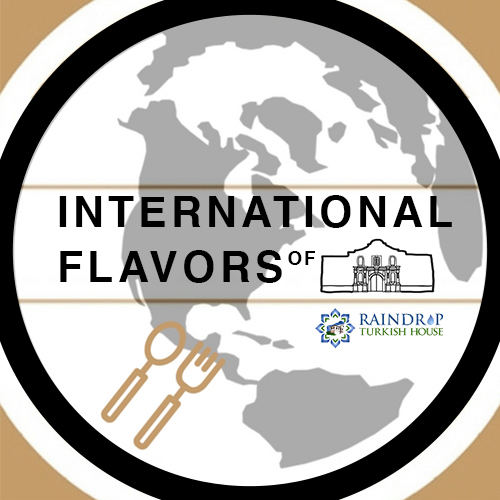 4337 Vance Jackson Road, San Antonio, TX 78230
Your Venue Location on Google Map